Almost DEAD MEN
Postmodern Swedish punk. Almost DEAD MEN was formed in 2017 by Sören Andersson and consists of members from Rävjunk, Stain, The Sleep and N-Liners – legendary bands from Uppsala, Sweden's punk scene in the seventies. You'll find them at all major media outlets, like YouTube and Spotify.
Almost DEAD MEN is a Registered Trademark (#606826 at Swedish Trademark Database)
Mad Wasp Radio, February 21, 2021
Radio Candy, February 10, 2021
RCK Radio Kaos Caribou, France, December 25, 2020
The Christmas 2020 Special! Punky Radio, UK
Zero Magazine, Sweden, December 6, 2020
Spider Webb Radio, Detroit, US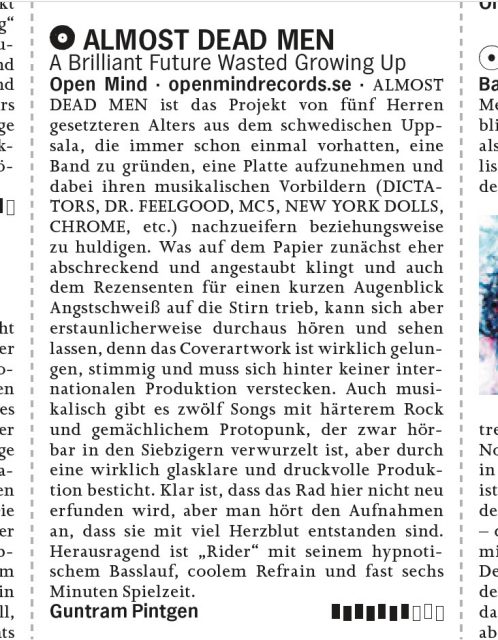 Ox-Fanzine nr 151, Germany
UNT 2020-07-29 Kaxig och rastlös energi hos post-förpunkband (kräver pren)
Rock'n'Roll Magazine nr 6.
Tuning Up, Mad Wasp Radio show 148, Mad Wasp Radio show 150, UK
Plástico Elástico, Spain
Next Up With Tommy Clark, Pulse Community Radio, Scotland, UK
RKC – Radio Kaos Caribou, France
Rockfarbror: En häftig rock 'n' roll-debut av Almost Dead Men
eFOLKET: Rökig rock n roll med Almost DEAD MEN
Uppsalanyheter: Recension: Energikick av nästan döda män – Skivsläpp av Almost Dead Men
Uppsalanyheter: Recension: Vital och skitigt rock från Almost DEAD MEN
Rockfarbror: Almost Dead Men kommer att skaka liv i dig …
Ghgumman – Robex Lundgren blogg: Intervju med Almost DEAD MEN